About Us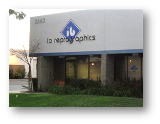 ib reprographics is a family owned and operated Small Business which has provided the Inland Empire with high-quality reprographic products and services since 1986. Much has changed in our industry over the past 20 years and ib reprographics has changed with it. However, our dedication to providing our clients with best possible quality and accuracy, on time, has not.
At ib reprographics we believe that communication, consistency and extra attention to detail are essential components of good customer service and we pride ourselves on tailoring to the individual needs of each and every client. Therefore, by becoming an extension of your staff, we can share and accomplish a common goal, "A Job Done Right the First Time".
We have evolved from Blueprinters to Digital Document Specialists by utilizing the latest in digital equipment, software and education. We are constantly evolving to bring our clients concepts and trends shaping the reprographic industry today.
Today's technology enables us to provide our clients with high quality digital output in monochrome or full color. Documents can be produced from digital files, or scanned to file using high resolution large format scanners. Whether it's a old blueprint or color illustration mounted on foam board, it can be scanned to a digital file and viewed, printed, transferred electronically, or simply archived for future reference.
Project Drawings may be scanned to our array of storage drives, at your request, and then ordered via telephone, fax, or e-mail. Once digitized, drawings may be ordered in whole, or partial sets, at any scale. Our Online Planroom is a very convenient option for projects that require strict control and worldwide internet access. You decide who has access and receives plan sets, and with order history and automatic e-mail notification you can be sure of proper distribution.
We would like to thank our clients for their continued patronage and stress our commitment to extend our history of over 25 years in the City of Riverside.